📦 PRODUCT DETAILS:
NoteBook Size: 13.8cm x 20.4cm
Each book contains 224 pages
Types: 8 Option(s)
Category: Notebooks
😍 MORE CATEGORIES:
Giftsmilee | Established 5 years since 2019
Unwrap a Smile with Every Gift!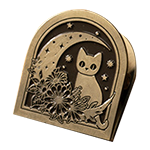 Starry Night Love Song Clips
More than just a tool. A stunning visual symphony in bronze.
Crafted with precision and an eye for detail, the Moon Bronze Clips offer a unique way to secure your important documents, highlight pages in your journal. Each clip is a small piece of art that brings an element of the ethereal right to your desk.