Resonate With Your Personal Style And Interests
Crafting allows for personal expression, as you can choose materials and themes that resonate with your personal style and interests.
---
📦 PRODUCT DETAILS:
Packaging Size: 9.5cm x 14cm
Each set contains total of 20 sheets
Types: 4 Option(s)
Category: Stickers
😍 MORE CATEGORIES:
Giftsmilee | Established 5 years since 2019
Unwrap a Smile with Every Gift!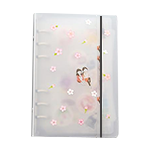 HOT PRODUCTS / KS-SA-2738
A4, A5, A6 Sticker Storage Book
Keep Your Stickers Organized
An excellent way to store paper materials such as stickers, collages papers, and tapes before putting them into a more elaborate storage system. Instead of leaving a pile of stickers on your desk to organize them later, stick them in the appropriate accordion folder!Never be limited by a static binder again. This refillable system grows endlessly along with your passion. Make it a part of your creative journey today!